48 hours in Mont-Tremblant : far from the tourist traps
I used to think Mont-Tremblant was a tourist destination and I almost never went there. And yet ... it was named No. 1 Resort in Eastern North America and it is crowded every season, so there's must be a reason. I therefore putted my misconceptions aside and went to spend a few days in the pedestrian village of Mont-Tremblant. Now, my conclusion is: if you make the right choices, Mont-Tremblant is the perfect getaway to enjoy summer.
First of, if there is one thing that cannot be denied, it's that ...Tremblant is beautiful! When you arrive at the bottom of the mountain and you see the colourful houses of the pedestrian village, it is hard not to be moved. Then, when we take one of the hiking trails to climb the mountain: we are captivated. The view is spectacular and, if the sky is clear as it was the day I was there, we can see Lake Tremblant and beyond. Absolutely splendid.
Once there, the most important question to ask yourself is :what to do? Because there is a lot to do. So much that I did not have time to do everything I wanted !
Here are my suggestions to make the most of your stay in Mont-Tremblant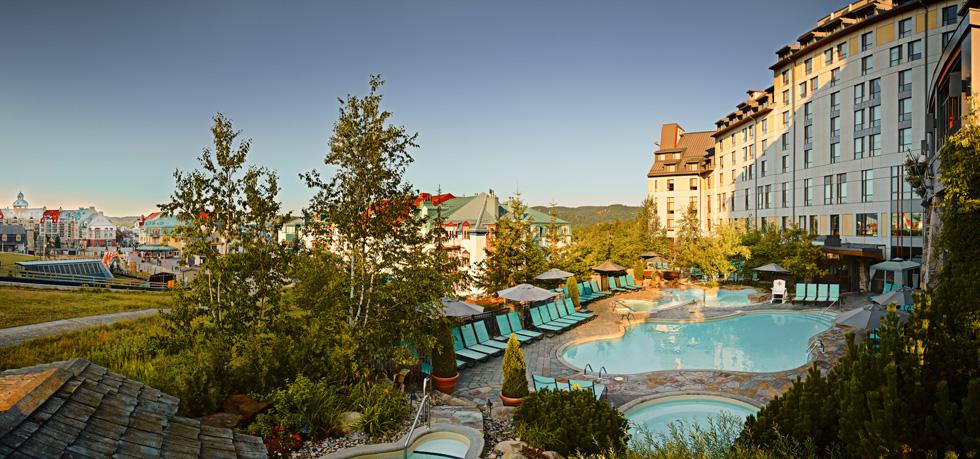 In the area, my accommodation choice is, without a doubt, The Fairmont Mont-Tremblant. Located in the heart of the pedestrian village and at the foot of the mountain, you can easily leave your car behind and do everything by foot during your stay. The luxury hotel has also recently completed major renovation works to modernize its facilities: the outdoor pools, the terrace, the restaurants and the lobby have undergone a major makeover. I particularly enjoyed the "chic chalet" meets "hyper modern" look of the Axe Lounge Bar and Le Comptoir Restaurant. Ricochet café & bakery, where you can order a real good coffee (a rare find) prepared by a talented barista, is also an excellent and delicious idea. Finally a good coffee (and a quality food offer) in the pedestrian village of Tremblant! One of the best restaurants in the area is, indeed, Le Choux Gras, the Fairmont Tremblant's signature restaurant.
If the weather permits, there are plenty activities to do in Mont-Tremblant. You can: take one of the many hiking trails accessible from the Pedestrian Village, swim or practice: canoeing, kayaking and paddleboarding on Lake Tremblant, rent bikes or play mini golf. Good to know: it is possible to get an activity book that allows you to enjoy several attractions at a lower cost. The two activities that are not included in the booklet and that are of interest are, in my opinion, the sled and the SUP board.
The Mont-Tremblant "summer toboggan" is really something to try at least once, no matter how old you are. My husband and I had a blast riding down the slopes aboard our "half go-kart half-toboggan". Also, my inner yogi was really happy to find out about the free yoga classes offered by Löle Tremblant and the Fairmont Tremblant every Saturday morning. Paddle boards can be rented at the Parc-Plage de Tremblant, but is not included in the activity booklet. Otherwise, it is also possible to paddle down Rivière La Diable on a paddleboard if you go the Mont-Tremblant Activity Center, located nearby.
After a busy day playing outside, you deserve a moment of relaxation! Precisely, and without trying to make any bad word games, the brand new Moment Spa Tremblant is absolutely spectacular and is worth a detour. This elegant and fully refurbished urban spa offers a manicure and pedicure area that provides mountain views, solo or duo treatment rooms and a Neuro Spa in the waiting area to perfectly end (or start) your relaxation.
In the evening, there is a lot to do in Mont-Tremblant as well and it can be really interesting (and fun) to go .. at the Casino de Mont-Tremblant! Even if I'm not a gamer at all, I still had an amazing time enjoying a drink (and a great meal) on the beautiful terrace of Altitude Restaurant which offers breathtaking views of the mountain before ending my evening playing at the blackjack tables and slot machines. When it stays "just for fun", it's really a fun activity idea!
Another great activity idea to do in the evening during a stay in Mont-Tremblant this summer:is : the interactive show Tonga Lumina created by Moment Factory. Presented every night until October 14, this sensory journey tells the story of a giant who watches over the forest of Mont-Tremblant. If you enjoyed Foresta Lumina (and even if you have no idea what I'm talking about), the Tonga Lumina experience where you walk in the forest to discover "the secrets of the giant" is a must for anyone are passing through the area this summer, period.
Finally, know that the mythical Scandinave Spa Mont-Tremblant (the first Scandinave Spa in Quebec) has recently modernized and expanded its facilities. Infinity is a brand new section of the popular Nordic Spa that offers: a huge "infinity" whirlpool bath, a thermal waterfall, a fireplace and plenty of lounge chairs to relax and enjoy the view of the river (where I took a plunge - such a nice feeling!).
In conclusion, the activities are not lacking in Mont-Tremblant and there is something for everyone! So, now, if you ask me about Tremblant, my answer is : I really enjoyed my stay and I would return without hesitation for a fun short getaway that combines outdoor, relaxation and entertainment.